Avigilon designs, develops, and manufactures video analytics, network video management software and hardware, surveillance cameras, and access control solutions. Avigilon's video surveillance solutions have been installed at thousands of customer sites throughout San Antonio, TX including school campuses, transportation systems, healthcare centers, public venues, critical infrastructure, prisons, factories, casinos, airports, financial institutions, government facilities, and retailers.
Bosch security seeks long-lasting solutions to make the Corpus Christi, TX community a better place to live, work and learn. We are committed to the care and stewardship of the community. We take a collective approach and give the best of Bosch.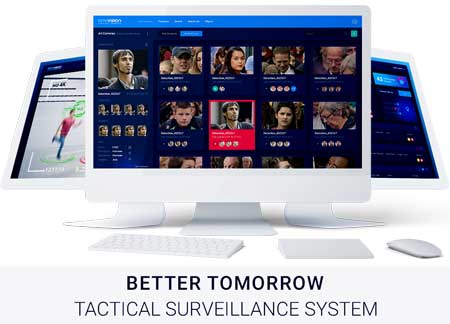 AI Designers & Security Veterans combined. Together we have built the world's leading recognition platform, used across multiple industries globally. Based on 20+ years of academic research and field experience, we can bring innovative AnyVision security solutions to your McAllen, TX business.

Agent Video Intelligence (Agent Vi™) is the leading global provider of open architecture, video analytics solutions. Agent Vi's comprehensive video analytics offering includes software products for on-premise installations as well as cloud-based SaaS, with capabilities ranging from real-time video analysis and alerts to video search and business intelligence. The solutions are fully integrated with a variety of cameras, encoders, video management systems and alarm automation software.
Axis is the market leader in network video. We invented the world's first network camera back in 1996 and we've been innovators in video surveillance ever since, increasing the security of millions of people from Gregory to Padre Island and worldwide, helping to meet the growing need for a smarter, safer world.
BriefCam is the industry's leading provider of Video Synopsis® solutions for rapid video review and search, real-time alerting and quantitative video insights. By transforming raw video into actionable intelligence, BriefCam video analytics dramatically shortens the time-to-target for security threats while increasing safety and optimizing operations.
IntelliVision is a market leader in AI and Deep Learning-based video analytics and video cloud software. IntelliVision solutions provide actionable insights and intelligence for security and monitoring in Smart Home, Smart Building, Smart City and Smart Retail applications, and Advanced Driver Assistance Systems (ADAS) for driver and road safety in automobiles. IntelliVision is a subsidiary of Nortek Security & Control and is headquartered in San Jose, California with offices in USA, Asia and Europe.
In a complex world, it is becoming harder to understand the everyday. An overload of sensors and devices as well as the volume of unstructured events and alarms all make it harder for you to know what is happening around you. Video analytics deliver clarity, insights you act on, and eliminate the noise. Our suite of analytics transforms video into smart, actionable data. It improves your security and operational efficiency, so you make the right decisions at the right time.